Drage and Tozer Opticians partner Sandra Tozer is retiring this month after nearly 45 years as a qualified Dispensing Optician.
Following in the footsteps of her father who was a manufacturing optician, Sandra graduated from City University, spending her early years with a multiple optician she has spent the last 23 years building up the successful Sudbury independant practice Drage and Tozer Opticians with business partner Helen Drage.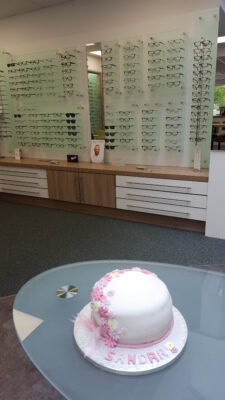 Helen says "Many of the first patients who came into Drage and Tozer as children are now bringing in their own children and grandchildren! Over the years Sandra has strived to provide the best service for her patients by ensuring that she spent time with them offering them the best quality optical products."
Asked what practice life was like when she was first qualified Sandra said "We were paid the princely sum of £4.50 for the eye examination from the NHS!"
Most of the frames dispensed were the "NHS 524' (similar to the currently popular classic Ray Ban frame) and children had no choice in style just colour, blue for boys and pink for girls."
Sandra and Helen moved their practice to Siam Place Sudbury in 2015. Sandra says "Moving to Siam has been incredibly successful for Drage and Tozer and I am proud of what Helen and I have acheived. We have a super team and I feel that I am leaving the practice on a high! Helen and our talented team will continue to maintain the reputation and high standards we have built up over the years. I am ready to retire and want particularly to spend more time with my family and perhaps have time to take holidays and even just sit and watch the world go by. I have been overwhelmed with cards and messages from patients!"
Helen said "Sandra will be missed by patients and staff and has been my friend and colleague for most of my career. The staff and I are very proud to be able to continue the tradition and values which Drage and Tozer has become renowned for- friendly, local service, quality eyewear and exceptional eye care. We all wish Sandra a very happy retirement."